Application: Nightclub, Bar & Lounge Soundproofing
Nighclubs, bars, cafes and lounges face acoustical challenges like buzz from loud and heavy music, thumping bass & low frequencies and shouting voices of the crowd. To turn this noise into a great sound quality party place, proper sound isolation, sound absorption and sound diffusion is important. The music should stay inside the premises at all times and do not disturb the outside areas like VIP rooms, lobby's, washrooms etc.
Nightclub is prone to fire mishaps and liquid spillage. Therefore MMT Acoustix® products are fire retardant and water resistant. This increases the life of the treatment and lowers the maintenance of the project.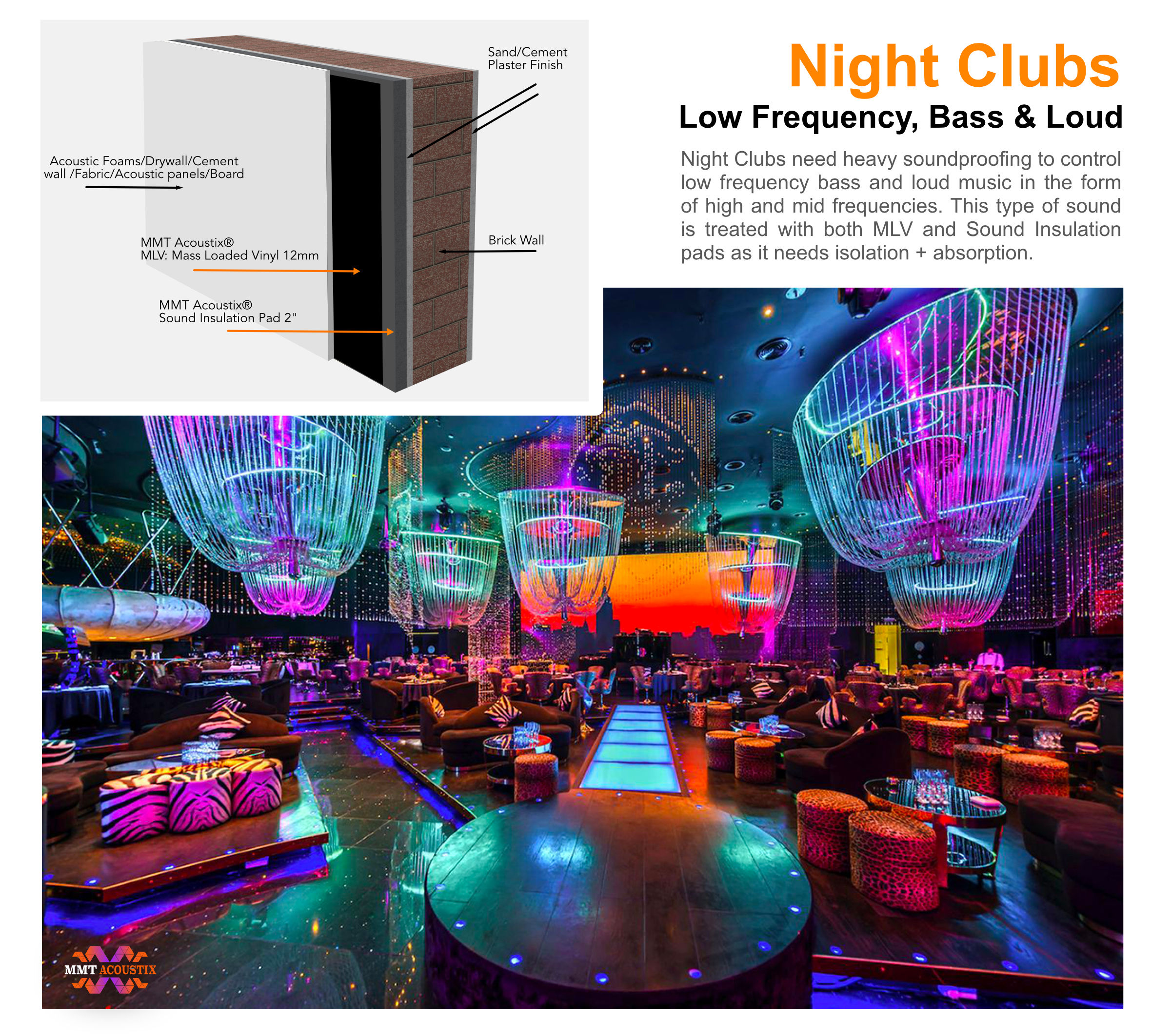 MLV : Mass Loaded Vinyl
MMT Acoustix® Mass Loaded Vinyl noise barrier is a high density membrane which can easily spread on floor and walls to isolate the sound from one space to another. Mass loaded vinyl is used for auditorium soundproofing to block low frequency sounds. MLV comes in roll form and is available in different thickness. For more information about the product click here
Sound Insulation Pad
MMT Acoustix Sound Insulation Pad is a fire retardant polyurethane based sound absorber which easily blocks high and mid sound frequencies. Sound insulation pad is the best non-carcinogenic wall and ceiling soundproofing product. It comes in sheet form and can be easily stuck on any surface using SR adhesive. For more information about the product click here
Wooden Acoustic Panels
SoundAxe Wooden Acoustic Panels by MMT Acoustix® are pre-made acoustic panels in size 23"x23"x1" which can be easily pasted on existing wall system. Applying them next to each other or in design can perfectly improve sound quality and aesthetics of an auditorium. For more information about the product click here
Acoustic Foam Panels
Our acoustic foam panels are used widely to absorb sound reflections and are rated best in it's type. The product comes in various sizes, colors and designs to suit every project's need. The most liked design is Boxer and Groove acoustic foam panel. The NRC of this product is greater than 0.90. For more information about the product click here
When Noise Is Not An Option